Belize City Port of Call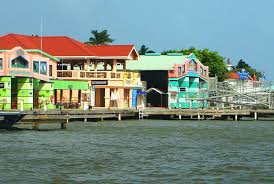 Belize City Port Of Call, is the primary port of call for most cruise lines. It is home to about 60,000 residents. Once the cruise ship anchors, a tendered boat ride averaging 20-minutes or so brings visitors to shore at the Tourism Village. The Tourism Village offers a comfortable, colorful and scenic platform for stepping on shore. Port agents and tour operators greet caribbean cruise visitors upon arrival and are willing to answer questions whether or not shore visitors have a pre-arranged tour. An information desk sits in the main concourse and is a must-stop for independent travelers who may not want to be a part of a packaged tour.

The Tourism Village and its immediate surrounds offer refreshment opportunities and exciting and varied shopping options. The Village has three terminals, with courtyards that house over fifty stores and businesses. Restaurants, snack shops, handicraft stores and duty-free shops offer a mix of air-conditioned and open air settings. On cruise ship days, Belizean cultural music, like the famous Punta, Brokdong or Marimba can generally be heard. The Village also has other amenities, such as an Internet Café. Belizean tour operators and licensed tour guides stationed at the Village offer customized tours of the city. Beyond the city, pre-arranged tours disembark either from the Village or, particularly in the case of pre-arranged snorkeling and diving tours, directly from the anchored cruise ship. Many passengers take the opportunity to extend their Caribbean vacation by transferring to a Belize Hotel, then catching the cruise ship back on its return trip.

Western Caribbean cruise lines offer tour itineraries and options ( but private tour are better ) and can arrange for inland or marine tours that can all be accomplished within your visit. Daily tours are arranged to fit comfortably within the six or so hours generally available for exploration before re-boarding and sailing off again. Some of the popular daily treks from the Tourism Village by tour bus or van include the rainforest Mayan ruins of Altun Ha ruins and Lamanai ruins; canoe,river kayak or cave tubing Belize's rivers and caves; visits to nationals parks and wildlife protected areas such as the Belize Zoo, Crooked tree Wildlife Sanctuary, and the Community Baboon Sanctuary. Enthusiasts of Nature Walks and Birding will particularly enjoy these inland day trips, which often have built-in stops at local restaurants that serve up delicious Belizean cuisine as well as European and American food dishes.

If one's pleasure is marine, then Belize's world-famous Barrier Reef is readily accessed for several pleasant hours of snorkeling, fishing, diving, windsurfing or just swimming in this slice of the Caribbean's crystal clear seas. Frequently visited offshore islands, called cayes, include Goff's Caye, Caye Caulker and San Pedro, with the Hol Chan Marine Reserve which offers visitors a chance to swim with nurse sharks and bottle-nosed dolphins, as well as with large, docile stingrays and eagle rays.